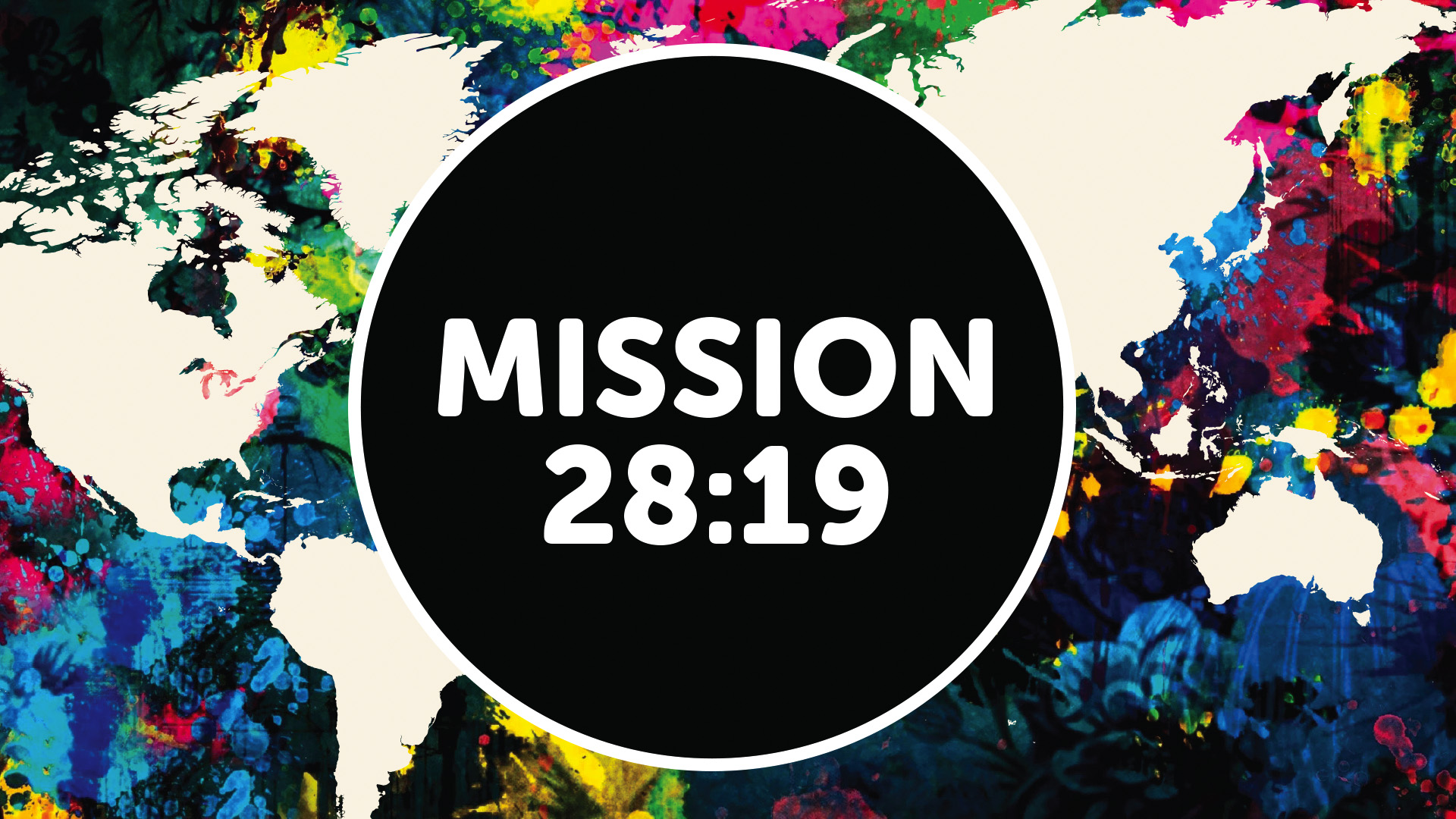 What if Jesus was serious when He said that we should
make disciples? We need to look carefully at what He'a instructing
us to do.
Over the past couple of weeks, we have seen that the command to make disciples is
fulfilled by
going, baptizing and teaching. We go, we baptize, and we teach.
That's how we make disciples
.
What is the goal of our
discipleship? Jesus said it best:
A disciple is not above his teacher, but everyone when he is fully trained will be like his teacher. (Luke 6:40)
The goal of discipleship is Christlikeness. As we grow towards Christlikeness, we are to help others do the same. This is why we say "Disciples disciple". Embarking on this task can be daunting but we are reminded of the promise Jesus makes to those who carry out the mission:
I am with you always, even to the end of the age (Matthew 28:20).
Thoughts from Sunday On the night of the resurrection, John invites us into a locked room where the disciples had gathered in fear (John 20:19-21). Jesus arrives and turns their sadness into joy. Instead of encouraging them to continue to meet privately, Jesus sends them out: "As the Father has sent Me, I also send you." (John 20:21) It is interesting that Jesus' expectation of His apostles on the day of His resurrection was for the m to go and continue to do the work the Father had been doing through Him. This idea is captured in what we now call the Great Commission: "Go therefore and make disciples of all the nations, baptizing them in the name of the Father and the Son and the Holy Spirit, teaching them to observe all that I commanded you; and lo, I am with you always, even to the end of the age." (Matthew 28:19-20) The first statement in this commission is to go. That is exactly what we must do. We must Go! Over the next few weeks, we will continue to study this commission in our new series, Mission 28:19. We hope that you will join us!
Thoughts from Easter Weekend
What an amazing weekend we had here at Riverdale Ministries! On Friday,

we reflected on Jesus' work of redemption through his sacrifice on the cross. On Saturday, we shared the message of Easter with our children and our community through the Easter Egg Hunt. Finally, on Sunday we came together to celebrate Christ's victory over death and the grave and be energized to walk in newness of life because of what he accomplished!
The resurrection was not the end of God's redemptive story but a new beginning in which God's mission would be accomplished by the power of His Spirit within the hearts of his people. We hope to you'll continue to gather with us as we begin to consider this mission in the coming weeks.
Thank you to all of you who served to make Easter weekend such a blessing for all of us!
Our Journey towards Easter takes us to the streets of Jerusalem where Jesus made His triumphant entry. The crowd, with great excitement, shouts "Hosanna!" It appears that they've finally realized that Jesus was their long-awaited King.
Unfortunately, the crowd's expectation did not line up with the Lord's plan for His Kingdom. Jesus begins talking about His death as the means by which he would be glorified. This was unacceptable in their opinion and so they respond in this manner:
"We have heard out of the Law that the Christ is to remain forever; and how can You say, 'The Son of Man must be lifted up'? Who is this Son of Man?" (John 12:34)
"Who is this Son of Man"?
This is the question we all must answer. Today, we have the incredible privilege of being able to answer as the Psalmist did in Psalm 24. Jesus Christ, the Son of Man, is also the King of Glory awaiting entry through the ancient doors.
Our hope and desire is that as we share our faith, closed hearts will be open so "that the King of Glory might come in!"
Thoughts from Sunday
In John 4, Jesus encounters a woman at Jacob's well in Samaria and asks her to give him a drink. She's surprised that Jesus would even speak to her given that she's a woman and that Jews despised Samaritans. Jesus uses this location to begin a conversation about spiritual thirst.
We're all thirsty. Some of us try to satisfy that thirst through religion and social status like Nicodemas or through romantic relationships like this woman. Like them, we often find that the water from these wells will not satisfy for long--if at all. But true satisfaction can be found in Jesus, who satisfied every religious requirement, whose status is that of God Himself, and who comes to us as the perfect bridegroom.
As Jesus continues to reveal himself to the woman she asks him to settle a longstanding dispute
about the location of proper worship. Jesus transcends the debate by refocusing her toward the true intent of worship. The Samaritans worshiped on Mt. Gerazim and the Jews worshiped in Jerusalem, but Jesus teaches that true worship flows through a relationship with Him whose Spirit within us will be a "fountain of water springing up into everlasting life." (John 4:14b).
Are you thirsty? We tend to forsake God and dig our own wells only to find that they never satisfy the deep thirst within us. Maybe it's time we forsake our own wells and dig God through Jesus. He alone can satisfy.
We are introduced to Nicodemus in John 3 when he approaches Jesus and commends him for being a great teacher. Jesus does not mince words and says, "unless one is born again, he cannot see the kingdom of God." This statement is not what Nicodemus expected! How does one become born again? He thought he would have to enter back into his mothers' womb.
Another way of viewing being born again is to understand it in the context of being born from above. Salvation is an act of God upon us whereby we (who are dead in sin) are made alive in Christ. This process of being made alive is what Jesus meant when He said we must be born again.
Nicodemus could not grasp the idea of being born again and asks Jesus how this could possibly happen. One would expect a list of steps. Instead, Jesus says believe:
"Even so must the Son of Man be lifted up, that whoever believes in Him should not perish but have eternal life." (John 3:14b-15).
God has provided an amazing way for us to be born again: by believing in His Son!
Yesterday we were unable to gather due to a power outage in the area. Circumstances such as these reveal how much we value of coming together each week to connect with God, to grow together, and to serve one another. However, events like this also remind us that the ability to connect, grow, and serve is not limited to a specific location at a specific time, but can be experienced with family, friends, and neighbors at any time in any place.
The power is back on and we look forward to reconnecting with you this Wednesday at Oasis as we continue exploring the Lord's Prayer and celebrate communion together.
This past Sunday we continued with our series, Daybreak by exploring two truths about Jesus.
THE WORD
"
In the beginning was the Word, and the Word was with God, and the Word was God."
Every truth learned about Jesus must begin with the foundation that He is God. Our words are an expression of our hearts and minds. Jesus is the fullest expression of God because he is God.
THE LAMB OF GOD
"Behold! The Lamb of God who takes away the sin of the world!"
Our greatest need is in finding victory over sin. There are many people offering solutions to the ills of this world and there may be areas in our lives where things look dim. But Jesus is the light and that light shines. Jesus is the only answer! Our response is to..
2. Like John, point others to the Light...

to the Lamb of God who takes away the sin of the world.
Make sure you join us each week from now to Easter as we continue to consider how
the Light of Christ overcomes darkness in the Gospel of John.
This past Sunday we began our new series, Daybreak by exploring the declaration and invitation that Jesus makes in John 8:12.
THE DECLARATION
"I am the Light of the World."
Jesus made this bold announcement at the Jewish festival of lights that commemorated God's guidance and protection during Israel's journey in the wilderness. It's a bold statement in which he's doing nothing less than claiming to be God in the flesh...the one, true light of not only Israel, but the entire world.
THE INVITATION
"Whoever follows me will never walk in darkness, but will have the light of life."
After his bold declaration, Jesus invites all of us into relationship with him. How? It's simple yet challenging. Follow him. Stop trying to be your own light and submit to the Light of the World. If we do, his promise is that his light within us will overcome the darkness in our lives.
We hope that you'll worship with us each Sunday from now to Easter as we consider how the Light of Christ overcomes darkness by examining Jesus' ministry in the opening chapters of the Gospel of John.